Maine has the most unusual snow that I have ever seen. Under normal conditions the snow is so light and fluffy that you can easily shovel a load of snow without much effort. This year, however, the snow on several occasions has been much thicker and wetter. This makes the shoveling pretty difficult without the right equipment. Heavy!
Today, April 1, 2011, we are still in the midst of quite a storm. The snow has been falling all morning and we are sitting with about ten inches so far and it may snow 'til after midnight. Some Spring!
At this point, we have lost one tree, with one bending over to the ground.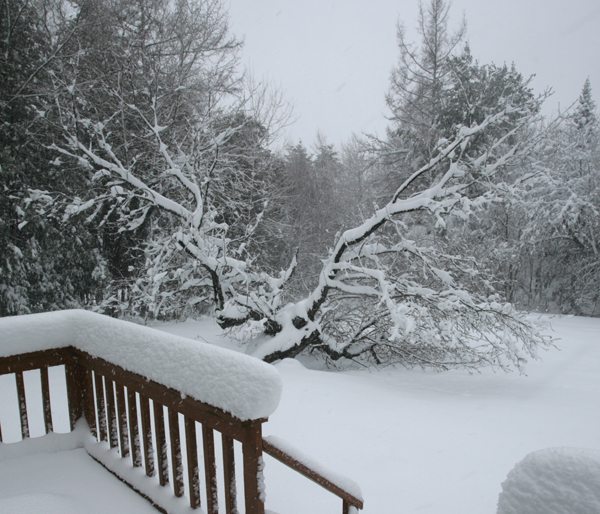 This poor apple tree. It is so old. Must have been here for well over 80 years. The contractors who built this house just didn't have the heart to cut down this poor thing. Contorted from the many years of lost major limbs, it is a sight to behold.
Two years ago, this same tree was hit by another catastrophe. A brief rain and wind storm came out of nowhere and tore off the front side (closest to the house). We had to spend about three hours cutting this major branch away and, since this happened in late August, the ground was covered with apples. The deer found them within a week and gobbled most of them up.
Now, this. The back side (farthest from the house) has split away and will have to be dealt with after the snows stop.
I have noticed that Winter here is not kind to the trees. Most of the trees up here seem somehow very brittle. Poor, rocky soil, perhaps. We see lots of downed trees every year.
By the garage, there is another downed tree. This one, however, is just bending and not breaking (yet). We'll see, when the snow leave the limbs whether it will every be able to stand up straight again. (As an update, the white birch by the garage stood up straight until the leaves matured. Even the weight of the several thousand leaves has brought the tree down nearly to half mast. She will have to be cut down :>( )
That's it. By the way, Molly is doing fine.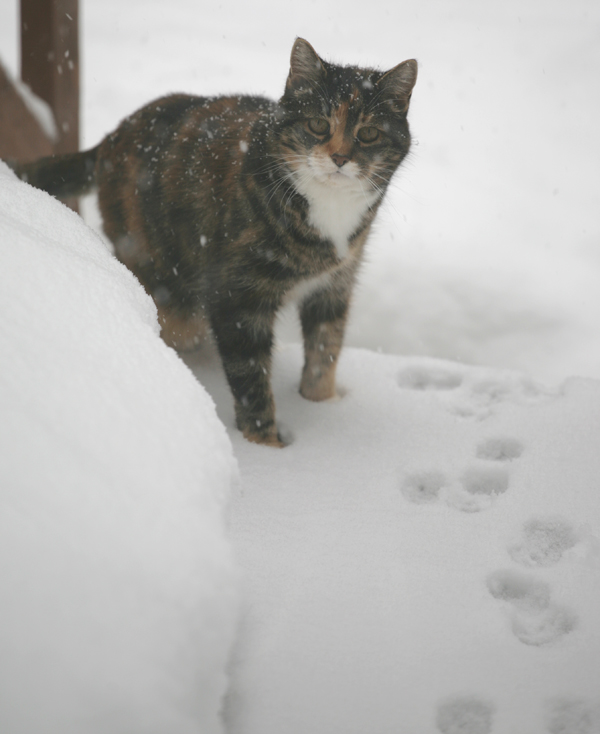 ---